The Best Property Management Company In Plymouth
 
Offering A New Service For Landlords & Letting Agencies In Plymouth
Speedy Property Lets are an independent Property Management Company in Plymouth, offering a professional service to both landlords and Plymouth letting agents.  With over a decades worth of experience in the residential lettings industry, we are now proud to provide Plymouth home owners and their agents a new 'set and forget' service that combines the security, hassle free and increased rental income that comes with company lets.
At Speedy Property Lets, we pride ourselves in providing a fast, straight forward, hassle free service to our landlords and their agents.  We guarantee rents are paid in FULL each and every month, for the duration of our tenancies and in some cases, we can even undertake repairs at no cost to the landlord.
So if you're looking to:
Rent out your property FAST!
Achieve MORE rents
Eliminate voids FOREVER!
Get tenants that will look after your property
Have someone go the extra mile for you
 
Opening Hours:
Monday to Friday: 9am to 5pm
Saturdays: 10am to 2pm
Web: http://speedypropertylets.com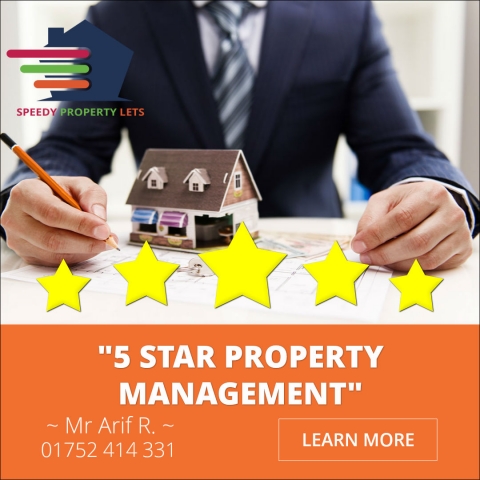 Looking For An Affordable Room For Rent In Plymouth Without Compromising On Quality?
If you're a tenant that wants to relocate to Plymouth and needs to find high quality accommodation at a price you can afford, then you're in the right place!
Click here to arrange a viewing of one of our top quality properties.
We are very much unlike the traditional high street letting agencies you might have been used to in the past.  As we are an independent online property management company that's been setup by private landlords, our priority is on service.
Many of the properties we manage are actually privately owned by ourselves, which gives us an unprecedented incentive to ensure they are well maintained and looked after.  Which is an ethos we apply to all the properties on our books.
If you've ever had horror stories in the past or suffered at the hands of other lazy residential letting agents in Plymouth, then you will be pleasantly surprised at just how well we look after our properties and our tenants.
We strongly believe that that if we provide tenants with great accommodation, there is a higher chance that they will be much more likely to look after our properties and keep them in good shape.
Being an independent property management agency based in Plymouth, we have the ability to be much more flexible with our tenant selection criteria and with rooms to suit all budgets, you will find that we have accommodation to suit a wide range of tenants demands.
Do You Need A House or Flat To Rent In Plymouth?
Primarily we deal with rooms to let in shared accommodation.  However we do have complete houses and flats for rent in Plymouth, typically for working professionals that are relocating to the city with their partners or family.
We focus on renting property in the central area of Plymouth.  So whether you are looking to rent a house, rent a flat, or simply looking to rent a room in shared accommodation that's close to town, local amenities and transport links then you should get in touch with us right away to arrange a viewing of one of our properties!
Speedy Property Lets are more than just letting agents helping people to relocate to the South West's Ocean City.  We think outside the box and offer a new approach to renting property as a top rated property management company in Plymouth.
Need to speak to someone in a hurry?
Call Us Now!
01752 414 331